Leisure Activities
2018
March -- The Gambia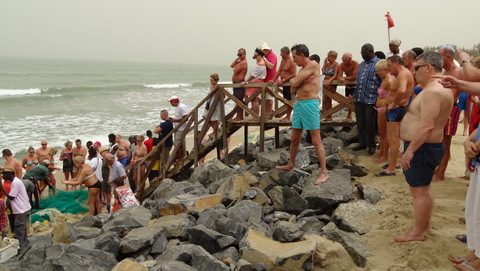 An early spring holiday took us to The Gambia, a first for us. Very friendly people but safer around the hotel complex as some of the people could be too friendly. The beachfront however was under construction as it had been washed away over the years. A constant noise of trucks and earth-movers was a nuisance. Access to the beach, although possible, was via a massive row of boulders. Evening meals were taken outside the complex, a 10 minute walk.
The weather was also quite poor with the first 2 days as hot as hoped for in middle Africa. The next 5 days were however overcast and disappointing for March - the last week of the season in The Gambia.
Entertainment was within the complex with resident performers and was indeed different albeit repetitive at times.
Local fishermen are sure to attract onlookers!
The photo show one of the wooden bridges built to access the beech now it is full of boulders.
September -- Greek Mainland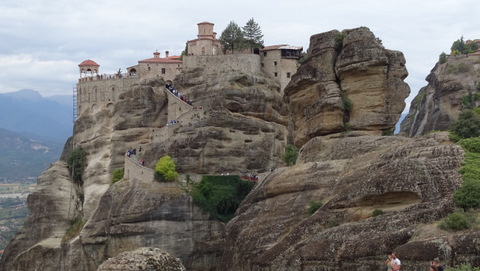 The Olympic Riviera was our destination for our Autumn Holiday. The Olympus Riviera is a 70km stretch of coastline between the base of Mount Olympus and the sparkling Aegean Sea, in an area of mainland Greece. Super hotel, though food got boring after a week. The local town, 40minutes on foot, saw us there each evening. A great trip was made to Kalabaka/Meteora, an amazing location in the mountains that is the home to many monasteries. Allocation that has been featured in a Bond movie "For Your Eyes Only" and also "Game Of Thrones". We had no idea how famous till we researched the place later and it is fair to say there is nothing quite like this place anywhere - stunning and awesome. It was a good car journey of around 3/4 hours but well worth it.
Will we revisit this resort ? Probably not.