Emporia Brava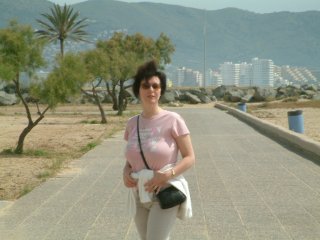 First none-UK break of the year was not really planned at all. An old friend asked us to recon' his newly acquired apartment in Emporia Brava. So the end of May seen us jetting off with Ryan airlines, for the very reasonable price of £40 each return , to Barcelona-Girona airport. The apartment was some 45 minutes away.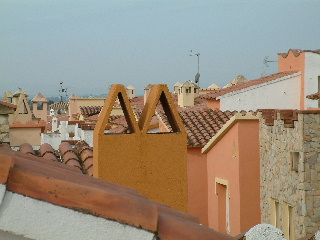 The complex was quiet, secure and quite secluded - hardly seen anyone else during our stay.
The apartment was very spacious with good facilites and we particularly liked the roof area where you can barbecue in the rooftops and view across the top of the world. It is well situated too, being just 5 minutes from one of the biggest beaches we've ever seen and also near to a couple of great internet cafes where we could keep in touch with the world if we had to. Plenty of bars meant that we managed to find a different place to eat each night as the choice is so great, although the prices are marginally higher than we're used to paying. We also hired a car and drove up and down the coast (France in just 45 minutes) where some of the views are superb.
Recommendations: tell us how to find a channel on the telly and kill the mossies.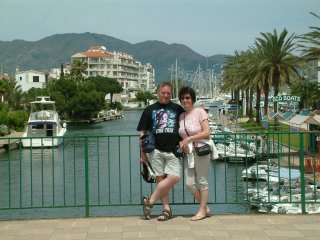 The resort is really built around and upon a lattice of canals, all at sea level as there is no tide to speak of in the Med'. The dwellings and homes around the network are really beautiful so it is almost like a millionaire's corner because the locations are not for the average worker.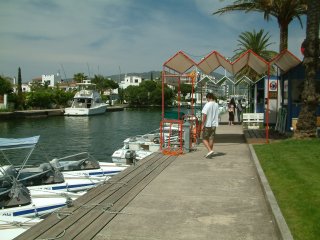 It it worth hiring a small power-boat to tour the canals and this location is the place to get one from. For 35 euros (but they'll settle for 25) one can spend an hour experiencing the delightful canal-side properties. Eat your heart out!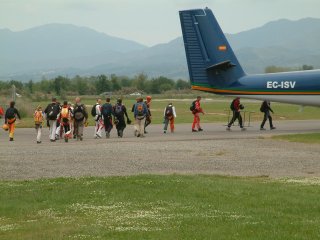 Not sure if I'd like to do this activity - even though I'm now used to flying high. Emporia Brava has a very active skydiving club which is great to watch. Load up into the plane and 20 minutes later jump out! From the ground you can't see the divers until the chutes open but when they do it's a pretty sight - more so for the divers no doubt!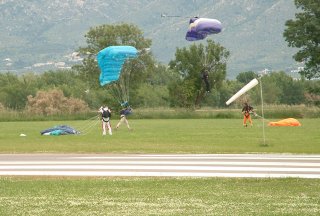 The landings are remarkably accurate considering how far they've dropped. They also land quite gently.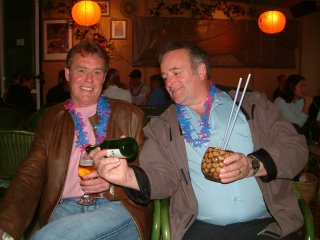 Considering it was late May the resort was quite quiet and very pleasant with plenty of choices for drinking and eating. There was a pleasand internet cafe around the corner from the apartment which was ideal for a coffee and toast breakfast for less than 2 euros. The beach was very long and wide and very sparsely populated - plenty of room to spare.

Visit the apartment's website.

Rhodes - Lindos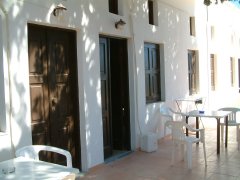 Avra apartments -Lindos, Rhodes - Sept 2004.
Faultless accommodation just 20 yards from the beach contributed greatly to this excellent late summer holiday. In fact we enjoyed this holiday so much we feel we should place a link to ARGO the tour operator. We booked through the co-op's Travelcare - excellent independent service.
Free air-conditioning too although this was offset slightly by the beachbed cost of 4€ per person per day.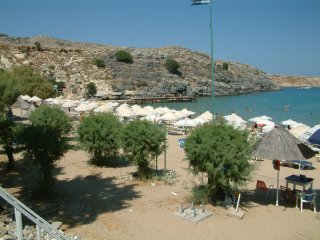 Situated within tumbling distance of two restaurants and within the late afternoon shade of the Acropolis, the Avra apartments are an ideal location. If you go to Lindos, stay nowhere else, this is the prime location.
We had a good 12hrs of sun every day with not a cloud in sight.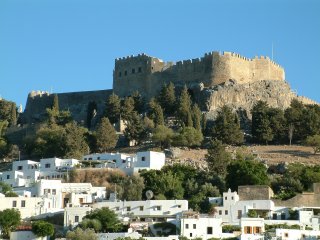 The Acropolis at Lindos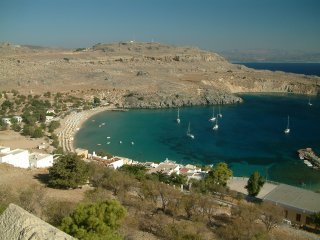 Lindos beach (viewed here from the Acropolis) is at the bottom of a fairly steep hill from the main road to the capital. It gets fairly busy from 10am-on but there was no shortage of beachbeds. All watersports are available.
Lindos town is extremely quaint with loads of narrow streets and thoroughfares making it easy to get lost in.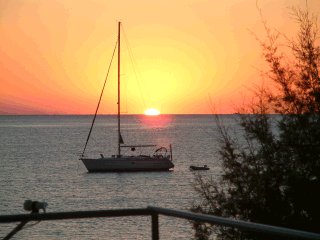 Sunrises to die for!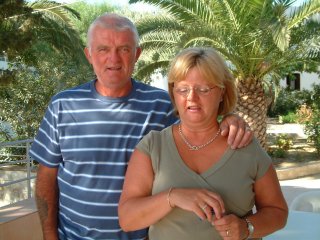 Pictured here, friends Terry and Jenny Ryan of Port Talbot.
Must do:
Visit to Rhodes old town and of course the Acropolis at Lindos.
Prices: this self/catering late booking cost us 600 GBP inc. insurance.
Beer (450ml Mythos) 2€ - 3.5€
Beachbed @ 4€
Acropolis entrance @ 6€
Local bus to Rhodes (1hr 15min) @ 3.4€
takeaway Gyros @ 2€
Pedalo 10€/hr
Resort spending totalled approx. 300GBP.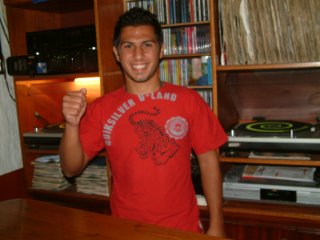 Tip: In Lindos visit the Apollo bar run by George and his family. Son Panos, shown here, is a promising footballer and DJ. A warm and hospitable welcome is assured. The music was what attracted us to the venue - pure and great soul - and not too loud. Doesn't close till 4.00am!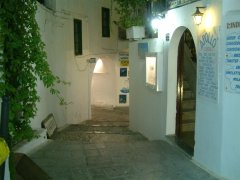 Find the Apollo bar near the bakery.

Other happenings in 2004
At the beginning of 2004 Rob successfully auditioned for entertainment work at Butlins Holiday Camps and was assigned to the Minehead site for the year. He became lead singer with the resident band and also got involved with the other shows staged at the site. He has enjoyed it immensely and has met many famous faces along the way. He is expecting to be there for 2005 but in any event he is serving a great "apprenticeship" in showbiz. He also featured in a documentary for BBC Wales. His own website is here

Richard has changed jobs yet again and now has a company car for the fruits of his labours. He supports and maintains PC networks.

Ginny has also changed jobs and looks forward to less pressure than her previous job which was working for the local authority.
We bought a another car for Ginny in February - a Nissan Primera, 2.0 ltr Auto - which is the third Nissan for Ginny as they have proved to be quite a reliable make. We equipped it with a tow bar in the event of a problem with the Shogun and we would be unable to pull the disco trailer to gigs. It also has air-con and the car soon became our main vehicle.

Barry continued to do disco and karaoke work throughout the year. Barry's major achievement was acquiring his Pilots Licence in February and when the weather is good Barry usually exercises his flying priveleges in the skies over Staffordshire and Warwickshire.