The Great Goldwing Tour of Ireland
The Antrim Coast and then some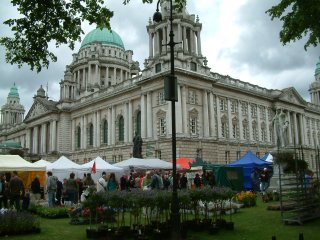 Day 1 Stayed at the appropriately named Barry's Hotel, we experienced a very wet evening indeed - a quick walk around Temple Bar and a Burger King and back to the room. The room really was shabby with a strong smell of fags and the breakfast was even shabbier. Don't recommend this hotel - EVER - even though we stayed there back in 2000.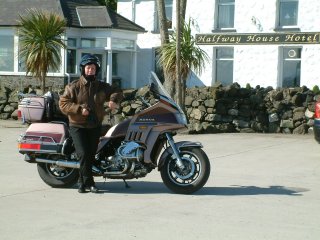 Day 2 Left Dublin with gradually improving weather heading for Belfast. Quick skip around the Euro market in the town centre and then drove north to Ballygally where we found a lovely place called the Halfway House Hotel (352 Coast Road, Ballygally, Co. Antrim).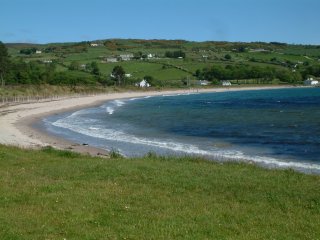 Day 3 Did the mandatory tour of the Antrim Coast - known as the Causeway Coastal Route because it encompasses the Giants Causeway. Attracted by the Goldwing, an amazing chance meeting in a layby with Mrs Adelaide Johnston and her husband resulted in a contact with Ginny's long lost relatives in Belfast after we returned, amazing.
Weather was superb although very windy making it quite dangerous on the bike - this wind persisted for the whole break. We took in the rope bridge at Carrick-a-rede and of course visited the Giants Causeway - awesome.
We continued then heading south-west and over-nighted in Donegal at a typical B&B (Riverside House, Waterloo Place, Donegal Town, Co. Donegal). A visit to the town centre - albeit very small - seen down a few Guinesses before retiring for the night.
Day 4 Back on the road and a long journey down to Galway was well worth it as it is such a nice place. Salthill - the main coastal resort aspect was very busy but we stayed closer to the town center with its quaint streets, shops and inns - better than Dublin we thought and well recommended. We overnighted at Travelodge Galway, and walked to and from the centre as it was just a 15 minute journey on foot. Ate at a side-street Italian called BUON APPETTITO for a keen price. Delightful harbour area, great town - visit it.
Day 5 Cold and sometimes wet journey back to Dublin, a few hours shopping and an early ferry allowed us to travel through the night back home. Oh, and a quick stop at Athenry (the fields of, naturally)

Elford Floods
Our village was well flooded this year - twice in as many weeks.

Ginny's 50th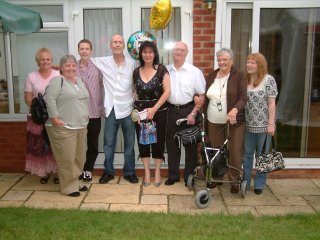 Much preparation, resulting in new decking, 2 marquees and a pig roast, led to this big birthday being held at home. The garden coped well although the grass is taking time to recover. A wonderful surpise for Ginny was the visit of two long lost cousins from Belfast, George Dane (now living in Maidenhead) and Marie (nee Dane) from Belfast but visiting Sheffield for the weekend. Gin's mom Gloria was overwhelmed as was her brother Tommy.

Most of the guests turned up and although it rained from about 9pm a good evening was had by all. A few piccies are in the slideshow below

Prague (Praha)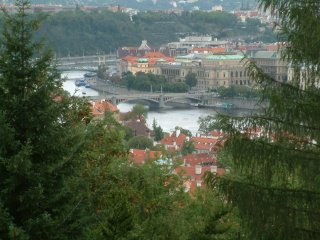 Many photos here at Webshots.

A midweek break to this beautiful city for Ginny's birthday was well rewarding. So much to see and do - mostly on foot - left us knackered but still wanting to see more. There are many walking tours on offer but we managed to cover most attractions with a RoadPhotoGuide showing 6 main routes.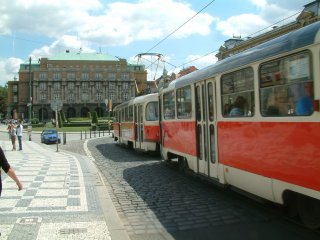 The trams were the only sensible way to travel any distance as they were really convenient, cheap and frequent. Buy a ticket from most hotel receptions and validate on entry to the tram. Destination names take a bit of getting used to but after a couple of days all was clear..ish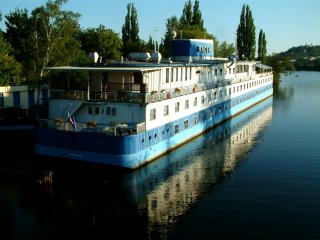 Our accommodation, one of a number of 'Botels' on the Vlatav river. Our Botel Racek was just south of the city centre, about a 5 minute, number 17, tram ride away with trams running every 10 minutes or so throughout the day and a little less frequent outside the rush hour period. The included breakfast was typically continental and could see one through the day and the evening meals were also tasty and reasonably priced.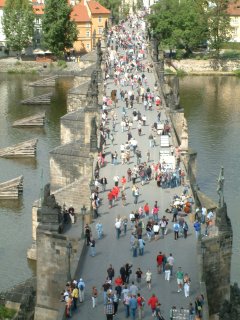 A visit to the Charles Bridge, arguably the most popular attraction in the city, is a must and somehow unavoidable as wherever one walks one invariably comes back to it. Make sure you vist and climb the tower at the Old Town end of the bridge - superb views over the city. The bridge itself is adorned with sellers of contemporary artwork as well as the original historic statues.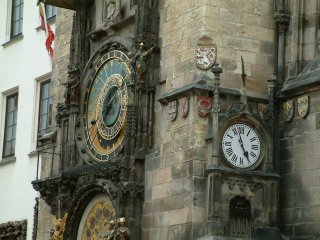 The fascinating Astronomical Clock with moving figures on the hour. This ought really be named astrological clock as the signs of the Zodiac are clearly featured. Crowds gather in the square prior to the hour chiming in order to see the dynamic character display.

Zante (Zakynthos)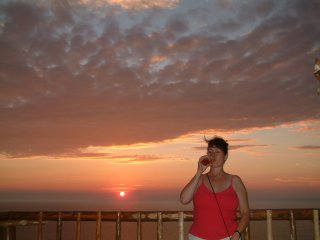 After an early October visit at the keen price of £250 each, Zante has turned out to be not our most favourite of the Greek islands.
Sunsets to die for - here at a clifftop restaurant on the west coast - seriously recommended.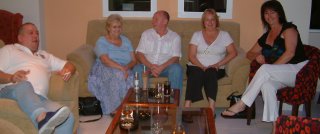 Staying at the Denny's Inn at Kalamaki we were rewarded with a wonderfully immaculately clean hotel with attentive staff and management. Nice and quiet too at this time of the year, in fact the whole island is nice and quiet in early October which has become our preferred time for a holiday - as long as the weather holds, which is always a greater risk in Oct'. Some nice people there too, Andrew, his Mom, Mike and Kay - all from up north.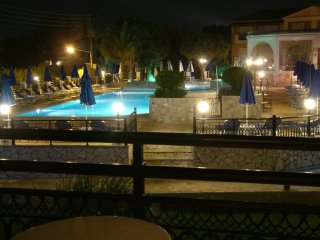 We highly recommend the Denny's Inn to anyone visiting Zante - it's close to the beach and just outside the main strip - ideal. Swimming pool well looked after too.

A couple of bars to avoid due to rip-offs are the Iguana Bar (no alcohol in the cocktails) and the Famous Mermaids (additions to restaurant bill like table cloth and cutlery rental!!), neither a big hardship but a principal at stake here.
Did like the Cocktail Bar (next to the Chinese/Indian restaurant - gave value cocktails).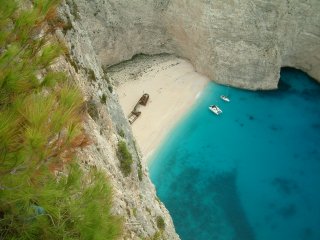 We didn't think there was much to see on the island and it probably isn't the best for sightseeing. All they really have is the shipwreck in the blue lagoon which is on every promo photo you see (and all the calendars!). This is accessible by boat but also accessible by car as there is a viewing point which was obviously used by the original photographer of this 'attraction'. Supposed to be a freighter carrying contraband that got wrecked during a storm - excuse me!! What a convenient place for the storm to wreck the ship - don't believe it - must have been deliberate to make a tourist attraction that for most people requires a boat trip to view.

Won't be revisiting - condensed photo album here.



Berlin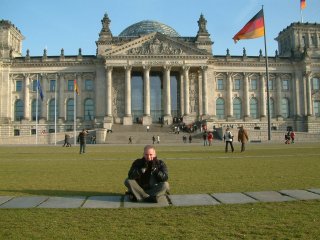 A pre-christmas break to Berlin was enjoyed to the full in late November. Staying 3 nights at the Hotel Aldea, in a seedy looking area off Bülovstraße, we had ample opportunity to visit the main attractions of this wonderful city. The Reichstag, seen here, was really very busy with tourists queuing to visit the glass dome even at this time of the year - in the summer the queues must be miles along.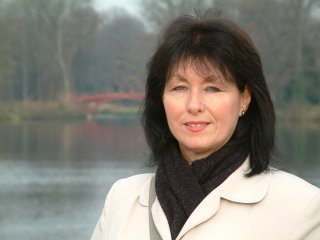 The Schloß Charlottenberg was less busy, probably as the gardens in winter are not as attractive as in summer but we found them very relaxing. We caught sight of a 'rare-in-England' red squirrel here.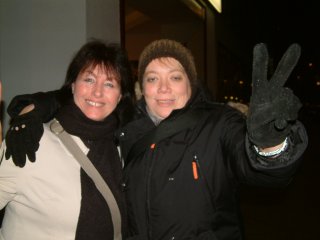 The last evening in Berlin was spent in the company of Claudia, a friend of a friend within the music industry who loves Robbie Williams and is not drunk in this picture!
Three evenings were spent in the Nollendorf Bar - a small pub round the corner from the hotel.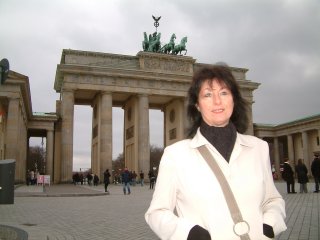 Some of the main sites were visited - Checkpoint Charlie, Potsdamer Platz, the Ku'damm and of course the Brandenburg Gate.

The taxi from Schönefeld airport was expensive at 30euros. Had we been more confident of our location we would have taken the S-Bahn. For just 10euros each we were able to travel the U and S-bahn all day long anywhere in Berlin.
The sightseeing bus tour was a must and we took this on our first day at 20euros each. The usual gauge of holiday spending costs - a beer - averaged around 2.3 euros (approx£2.00).

If there is a drawback to these short breaks it has to be Ryanair, whose boarding methods are nothing short of a melee of bodies moving from the terminal to the plane - disgusting.