Lanzarote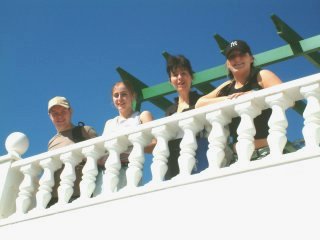 Our motley bunch of holidaymakers include Rob, Heather, Ginny and Amy. The location was Bocaina Villas booked through James Villas who we are proud to recommend. The villa was well located on the outskirts of the resort and also only about 10 minutes walk from the seafront. Great for a mixed age party as the promenade featured all of the discos and clubs one expects but only one street back from the prom' it becomes relatively quiet. James Villas also ensured our flight seating was all together.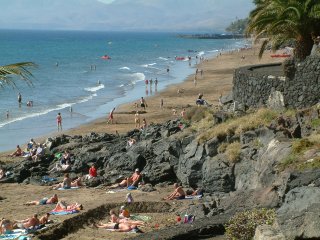 The weather was warm with a high of around 19° but also had a steady breeze. For a January visit we were pleased that the weather was so good.

We did however have a couple of overcast days which turned out to actually be more of a dust storm from the Sahara. This blotted out the sun and restricted visibility on the ground.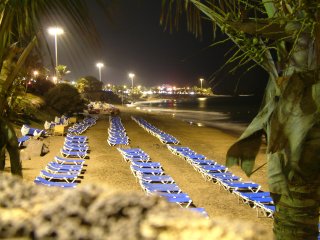 This night view of the beach was the result of a 3" exposure. Looking south from roughly where the taxi rank is.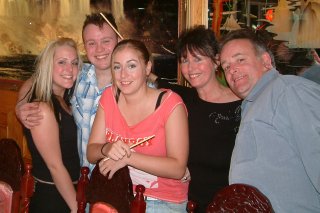 Quite a few Chinese restaurants were to be found in the town. Here a fixed price buffet was available for about 8 euros a head.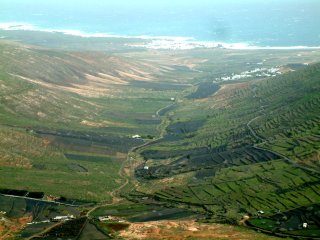 With many of the Canaries there are plenty of beautiful views to be had. This near perfect valley was found near Jameos del Agua.
Near to the entrance of the National Park this Wind Farm looked striking.

Bognor Regis
An easter trip to Bognor Regis to visit Rob who is entertaining at Butlins, allowed trips along the coast to Brighton and Portsmouth.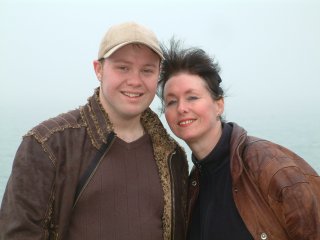 Rob and Ginny on Brighton Pier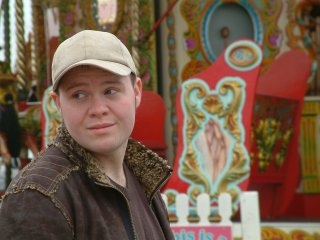 Again on Brighton pier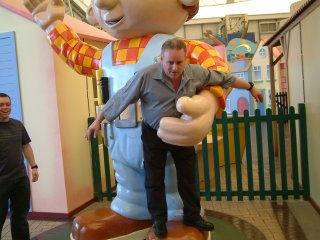 Baz and Bob the Builder

Turkey - Icmeler - June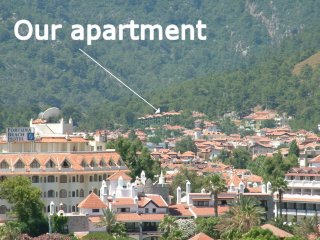 Club aquarium - beautifully situated on the hillside of Icmeler with stunning views over the town and about 15/20 min walk from the beach - in fact probably the farthest apartments from the beach in the whole resort. Nice apartments, towels changed daily - fridge, kettle, 2 hob stove, no toaster though.

Did not use wristband system in operation - No need unless drinking and eating on complex.
2 nice pools connected by a water slide in operation 2/3 times daily for 30mins.

Too many kids for my liking - ban families from the complex and it would be 100 times better.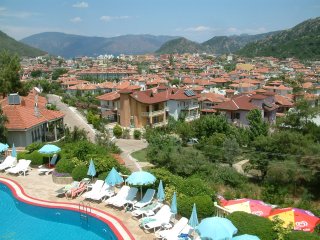 Main streets of town are hectic in parts with dozens of bars/restaurants touting for trade. Loads of neon and loud music can be offputting but some quieter establishments can be found. The canal walk,leading toward the sea, is particularly delightful, lined on either side by bars and small shops.
Try Majestic or Venice on the canal walk - good service and free entertainment - wait for the Michael Jackson tribute, good show for all.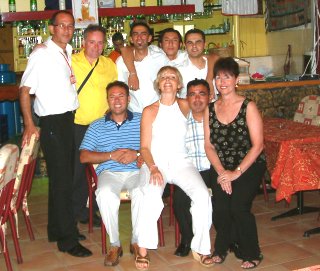 Booked Sunday boat tour at Bullshits bar - no bbq,swimming etc.£10 each. Ask for Billy or Antonio here.

Take a taxiboat to marmaris, worth it just for the boatride (7.5 lira one-way). Plenty of hustle and bustle in M, bars and restaurants not so pushy as icmeler, great harbour to walk around and lots of proper shops too. Loads of boats offering 1 and 2 day trips, they're great looking vessels - tempting.

Booked car hire HERTZ today until airport on Monday 4days*42 euros=168 euros,approximately 128GBP.

All locals are more than friendly and very helpful.

Memorable bars are CAPTAIN BULLSHITS & TITANIC where we ate well. Captain Bullshit owns the cafe and also the cruise boat (capacity 140) and even has his name 'Captain Bullshit' tatooed on his arm!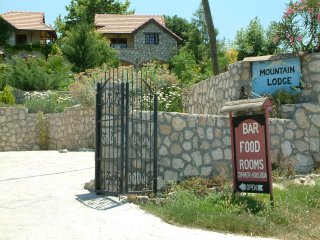 Biggest disappointment of the holiday
Visited Mick and Mel's mountain lodge on Friday. Cousin Mick was not there - he was on holiday for 5 days (even though we had e-mailed our intentions and got a reply just a few days before) - Mel was in Fetiye and not due back for hours. None of the staff spoke or suggested anything so 30min later we were on our way back to Icmeler. No mean journey - 3 hours each way in 35° of heat (car hire at £130 - 4 days).
Beautiful place though, a real oasis of delight, flora and fauna to die for, miles from any tourist route - the real Turkey - and there was us, two fucking real turkeys 3000km from home visiting no fucker!!

Bognor Regis - August Bank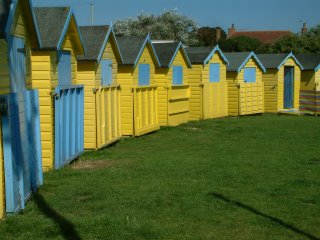 With Rob performing at Butlins regular trips to the town are the normal but late August Bank Holiday saw absolutely excellent weather with total sunshine from Saturday till Monday. Beach huts are now worth as much as £10,000....what!!!!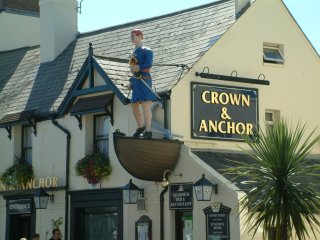 Get your unusual pub identities out! The Crown and Anchor at Shoreham with its eyecatching carved figure head and boat jutting out at first floor level.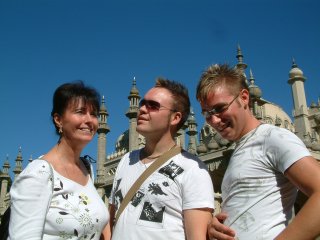 A trip to Brighton did not disappoint with its lively cosmopoliton streetlife and busy promenade and pier it was a great day. A stunning pavillion too.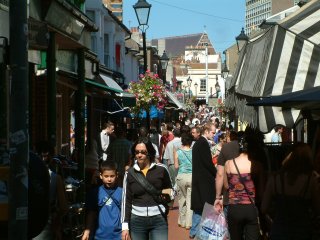 Santorini - Early October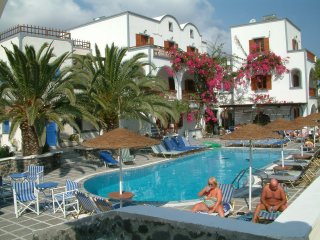 Something nice about visiting this island in October, the last week of the holiday season. As expected, with everywhere winding down for the absence of tourists, the resort of Kamari was nice and quiet as were the Kofouros studios we stayed at.
The weather was surprisingly good with almost constant blue skies and occasional cloud.

Our digs were clean and although the kitchen was small it was adequate for our needs but would have benefited from a toaster.
The owner Adonis and his wife Yourgia were trusting, helpful and obliging. Their swimming pool was very clean unlike some others we seen around the resort which were very cloudy and grotty. Adonis' drink and snack prices were also quite cheap compared to elsewhere.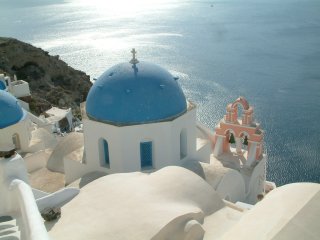 Kamari is close to the airport but the fascination of such a good view of the jets landing compensated for the excess noise.
Kamari has a long promenade walk shared with the occasional motor vehicle and is lined with restaurants and boutiques.
The restaurant prices varied quite a lot but we found Sytari quite reasonable with good service.
Buy a phone card to phone home in a local kiosk and chuck your mobile away as the card works out much cheaper.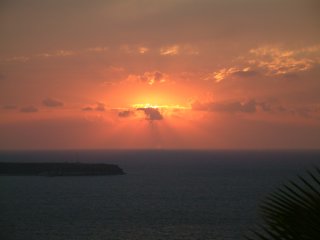 Other places We walked to the ancient village of Thira - 1000 feet up the mountain, and quite windy at the top - to see the excavations there, of which there are many.
A Suzuki Jimny took us to Oia, Imerogivil and Fira - extremely picturesque buildings with views to die for. The rest of the island was easily covered in a couple of days.