DJ Profile & History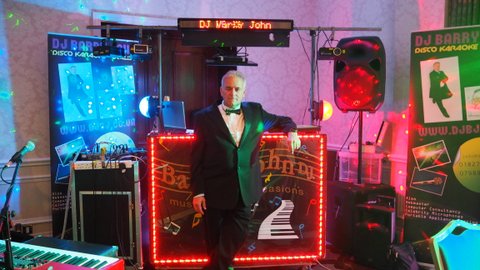 Originally starting out as a mobile disco with the name
'JB Sounds'
back in 1970, the youth club at Amington Bandroom was Barry's practice ground. Then in 1971 Barry landed a job as a full-time DJ in the old Birmingham nightclub
Rebeccas
, at a rate of £3 per night.
During the following three years Barry played in many of the Birmingham clubs (Locarno, Barbarellas, Cedar Club, Opposite Lock) and worked with many artistes; including Freda Payne, Edwin Starr, The Detroit Emeralds and The Drifters. He also worked with many of the then top DJs - Emperor Rosko, Dave Lee Travis, Simon Bates, Paul Burnett, Stuart Henry, Mark Wesley and Les Ross. In 1974 Barry left the club scene in order to concentrate on his mobile disco service which has given a constant stream of work ever since.
Rebeccas payment was £5 per night at the time he left. To put this 'large' sum into context, during the last few months at Rebeccas, Dave Lee Travis was charging the club £500 and Emperor Rosko around £350 for their appearances!
Barry's first paid mobile gig was held at the Moores Arms (now called The Appleby Inn), Appleby Magna for the princely sum of £10!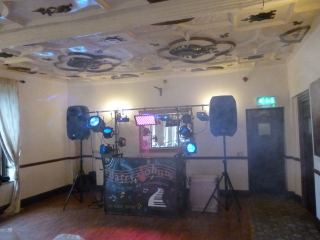 Through the 70s and 80s, residencies included:
Tamworth Football Club social club(regular Sundays circa '72-on)
Tiffany's (long since demolished) Halesowen during Summer '77
The Chequers, Hopwas (alternate Sundays circa '75)
Suzannas nightclub ('76-'78)
Playtime nightspot Lichfield ('77)
Polesworth Legion (regular Tuesdays, circa '77)
Amington Bandroom ('76-'79) Fridays and Mondays
Polesworth WMC (regular Tuesdays and Fridays, circa '78-85)
The George pub - Tamworth (regular Sunday and Monday nights, circa '77-'82)
Atherstone Football Club (regular Thursdays, circa '78)
Atherstone Ex-Servicemens (also Thursdays, circa '78-81)
Tamworth Progressive Club (every Tuesday '80-82)
I have been very fortunate to have been booked for just about every new year's eve since 1971 My New Years Eve portfolio:
1972 - Rebeccas
1973 - Rebeccas
1974 - Jolly Sailor
1975 - Nurses Recreation Room, Tamworth General Hospital
1976 - Castle Hotel for Gill's Cables Ltd
1977 - Tiffany's
1978 - Monica Cafe
1979 - Foseco
1980 - Castle Hotel for Midland Red
1981 - Atherstone Ex-Servicemens
1982 - Atherstone Ex-Servicemens
1983 - Castle Hotel for Midland Red
1984 - Amington Golf Club
1985 - A Farm in Staffordshire ??
1986 - Amington Golf Club
1987 - Warton WMC
1988 - Amington Golf Club
1989 - Wychnor Park
1990 - Amington Golf Club
1991 - Bolehall Manor
1992 - Bolehall Manor
1993 - Drayton Park Golf Club
1994 - Apollo Hotel, Perry Barr
1995 - Double booked for Swinfen Hall by agent so did not work although booked - so still paid.
1996 - Drayton Park Golf Club
1997 - Manor Hotel Meriden
1998 - Manor Hotel Meriden
1999 - The Boot, Tamworth
2000 - The Boot, Tamworth
2001 - Sandyback
2002 - Queens Head, Newton Regis
2003 - Tamworth Progressive Club
2004 - Tamworth Progressive Club
2005 - OFF
2006 - Tamworth Progressive Club
2007 - Tamworth Progressive Club
2008 - Tamworth Progressive Club
2009 - San Giovanni Restaurant, Sheepy
2010 - Tamworth Progressive Club
2011 - Tamworth Progressive Club
2012 - Tamworth Progressive Club
2013 - Tamworth Progressive Club
2014 - Tamworth Progressive Club
2015 - Tamworth Progressive Club
2016 - OFF
2017 - Elford Club
2018 - OFF
2019 - Kettlebrook Club
2020 - COVID CANCEL
Many visitors remember the Friday disco at Amington Bandroom, Barry thinks it started around 1976 and has lost count of the number of people who continue to remind him of it to this day!
More recent residencies include the Globe and The Tweeddale (90s), The Sandyback, The Queens Head and the Progressive Club.
Music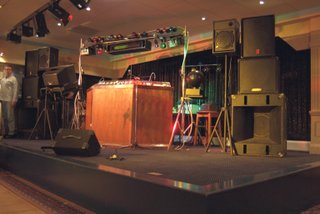 Barry's Record and CD collection is extensive and has been catalogued using
Rockbase
; a mammoth database of recorded media dating back to the 50's - a 'must get' for any serious Record and CD collector. Barry is acknowledged as a contributor to the database.
Barry uses a state-of-the-art computer system for music and karaoke, including a backup PC and 2 External drives for reliability. It took Barry around 4 weeks to transfer his large CD collection into mp3 format but he still carries CDs and CD players for yet another fail-safe backup. Much of Barry's vinyl is still to be converted to mp3. In total Barry has around 35,000 songs available at each and every event. These are all catalogued and tagged using Media Monkey and often played using Winamp or Sax & Dotties.
Audiences may hear music from an immensely diverse range of artistes - from George Formby to Robbie Williams.
Dinner-dances, Presentations, Weddings, Engagements, in fact whatever the occasion you can be assured of an excellent evenings entertainment with Barry who has a music collection spanning 70 years.
Equipment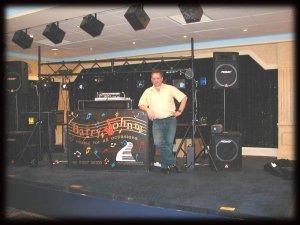 Shown above at Drayton Manor's Tower Suite, Barry was using a Peavey Impulse rig, pushing up to 2600 watts sound output. A 12 channel desk is used for PA & Karaoke. Since 2011 Barry uses a variety of amplifiers, digital and analogue, dependent on requirement. Wharfedale Titan speakers now complement the rig.
Lighting is now mostly LED and Laser-based and varies from gig to gig - 4 state-of-the-art multicolour lasers, four PAR56 mulit-colour LED spots, red/green laser starfield, IMPOSSIBLED and 4-port LED spot, glitter ball, hypermoons and wildmoons, DMX Scatscans, UV tubes, fog machine and LASER Crab. A multi-colour moving LED display shows personalised greetings and other messages across to an audience.
Radio and lead microphones ensure versatile PA capability for speech and vocals.
More recently Barry has acquired a EV powered PA with Alto Sub, complemented with an American DJ USB controller utilising Virtual DJ.
DJing has now gone full circle with Barry's latest aquisition of a pair of Technics1210 record decks and Allan and Heath mixer. Vinyl is once again on the agenda, especially with the Northern Soul fraternity.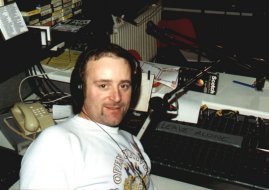 Community Radio
In November 1993 Barry's involvement with Tamworth's community radio
Palace FM
, culminated in the presenting of a 4hr Sunday night show for the duration of the station's first RSL (Restricted Service Licence); the Barry John Weekend Wind-down had many guests and consisted of interviews, chat and M-o-R music.
During the last week of the RSL Barry also presented the drive-time slot each evening; the program handled live telephone dedications, chat, pop music and local weather and traffic updates. The Weekend Wind-down was repeated during the second RSL in July 94, when his guests included Edwin Starr. Barry continued to support Palace FM and took over the Friday drive-time shows for the last 2 RSL's in the winter of '94 and the summer of '95. Palace FM was renamed Centre FM in preparation for a full-time licence bid and Barry once again hosted the Friday drive-time slot in the summer of '96. Centre FM won the broadcast licence for South Staffs in Autumn '97.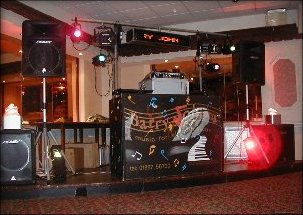 Real credit for the station's inception, fledgling growth and perpetuity must rest with a number of individuals; Jules Cadie, Paul & Pam Pearce, Steve Clarke, Keith's Golden Oldies, Ken Clayton, Titch, Ric simon, Roy Junior to name but a few - (sorry but I couldn't remember you all) and of course the many sponsors of shows and advertisers without whose contributions the station would not have been possible.
Unfortunately, and not too surprisingly, all local presenters with the Community Radio were eventually dropped by the new, 'commercial' ,Centre FM management. The local involvement therefore was reduced to zero and in Barry's opinion the concept of it being a community station no longer exists. It's true that most of the old presenters may not have been up to the standard demanded by a commercial station but help toward lifting the standard, which was promised by Mike "I'll ring you sometime over the next week" Vitie (lying dickhead asshole)did not transpire. Nevertheless, Barry's gripes not withstanding, the station is apparently enjoying success. In any event Barry personally wishes to thank all of those individuals who made it possible for him to fill a lifelong ambition to be a RADIO DJ, allbeit for just a short while.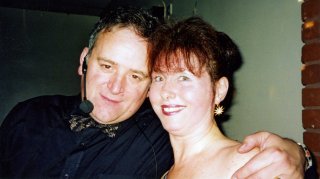 Barry and his loving wife Ginny

Big influence - The Emperor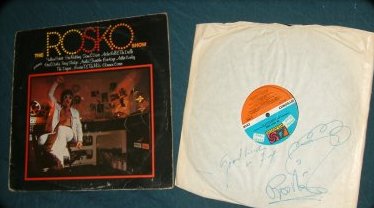 Without a doubt one of the greatest influences on my DJ career was
Emporor Rosko.
In my opinion he ran the top mobile disco in the whole country. Here's my proud possession - an autographed Rosko album - "Good Luck in '74"!!He was also a second-to-none radio DJ (and still is) with a superb voice which may have been influenced by (and I only suggest this) the famous American DJ Wolfman Jack.
Here (43Kb) is one
of a number of genuine Rosko jingles made just for me by the Royal Ruler himself.
Here (28Kb) is a personalised jingle from the famous Paul Burnett, top radio Luxembourg and Radio 1 DJ of the 70s.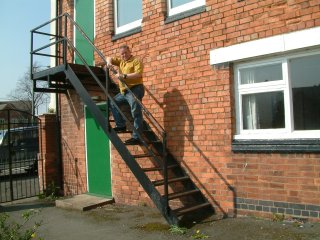 The Sailor
This exclusive photo of the Jolly Sailor 'death' steps has been taken for posterity as an eternal reminder of this horrific venue access. This was the route to the Jolly Sailor function room for Barry's whole DJ career although during the last 20 years Barry has accepted no bookings here.
Originally made of wood that a steel structure replaced in more recent times, these steps were always slippy, and the opening into the room at the top was awful.
The Jolly Sailor survives no more and these steps will never be climbed again and Barry claims to have been the last person to climb the steps prior to its demolition.
Although the Sailor has gone Barry believes it is of detriment to the area, as once more another classic building gets wasted and our heritage disappears.