Clubbers' Memories
Birmingham clubs
The only DJ I can remember from the Locarno was called Warren but I don't recall his surname. I obviously thought I was a good dancer, because I used to get up at Rebeccas and do a bit of go-go dancing on the side podium given half a chance. I can actually recall me and my friend working out a loose dance routine with one of the groups playing there.
I also worked on the cloakroom at the Top Rank for a while and also behind the bar at the Rum Runner until they found out I was underage. I think that was owned by the Fewtrell brothers.
I'm going to send an e-mail to Les Ross to see if he remembers me. I'm so pleased that he's done as well as he has although I'm not in the least bit surprised as I always thought he was a brilliant DJ.
I moved to London when I was eighteen and have only been back to Brum a couple of times since but the Birmingham clubs in the late sixties played an incredibly important part in my teenage life. Happy days.
Sue Day [to.dayfam@btopenworld.com] Jan 26 2004
---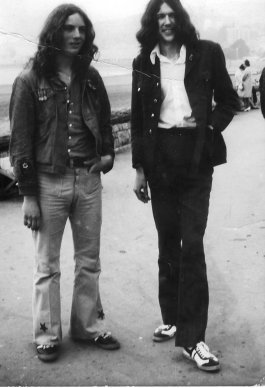 Remember Barbarellas
I used to be a good friend of Wayne Myers (RIP), pictured on the left with Michael Keeshan. He used to DJ at Barbarellas - and Rebeccas punk nights. He got killed in a car crash - Chrissie Myers - was his wife - She worked at all of the clubs for years.
After they closed around 2 30am - I used to go to the Cedar with Chrissie Fewtrell.
Those were good days - I saw some great bands at all venues
There were not many mobile discos around then
I went under the name of Dr. Livingsound - then I got more involved - I also used to help Dave Keene - he had a huge set up - all Orange equipment - Like Emperor Rosko use to use. I learnt all the electrics and wiring
I then set up a new Mobile Disco with Wayne and Derek called it Studio Pink - Everything was painted bright bright luminous pink.
I had a long wheel base transit - just about got the lot in.
Did some great gigs - regular was Crown and Cushion - Perry Barr - weddings and rock nights, Pubs all around brum, Sherwood, Robin Hood, Piccadilly club - opposite bogarts - Halesowen Baths, more weddings , 21sts, other DJ,s used to book my equipment - gigs all around london - all loads of work came rolling in.
The oddest gig - came through a london agency - a church - had to drape all the front of my console - in white- and play only eight records - over 3 hours - gregorian chants and elizabethan church music. But they wanted it as loud as possible - the noise in that church - You could hear it half a mile away I think they paid about sixty quid - and I got a lot of tips from the congregation - they sent a bag round - I came away with over eighty quid that night - people came from all over England - it was like a druids convention or something - really strange
The sound system was growing all the time - like an amoeba - Huge Vitavox Thunderbolts - picked them up from a US air force base - they were supposed to be used as an early warning system for an air raid attack - when the base closed - I bid for them at an Auction.. I fitted new exponential horn drivers - improved the cross over unit. The cabinets were so heavy - they were like a porters trolley - with fixed wheelbarrow type handles - couple of wheels at the front.
I started off with Dual Leak amps - then I upgraded to Quad - what a great amp they were - Dual Quad.
Decks - originally Garrard - Sonotone cartridges - soon binned them upgraded to Goldring Lenco - with Schure M75 rollback cartridge - they were great.
As the money came in - I kept upgrading. I bought a large mixer - integrated - I had to order it - Rudge - set up the specs. Rudge was a guy taking a PHD in electronics at Cambridge university - He used to help me come up with all sorts of ides - sounds /lights/strobes / prisms - even a bubble machine - built and designed by himself - that blew out luminous bubbles - with the big strobes going it was an incredible effect.
Added JBL monitors - More Cannon Adaptors - and I needed two roadies
Lights were all sound controlled- I had four light boxes - four par 38,s in each box - added couple of aldis tutor 2 - liquid oil projectors - Rudge came up with the idea - a small cruze motor - about 1 rpm - Turning a prism - the lights and liquid had a dramatic effect - the room was suddenly a kaleidoscope of light. Filled any size room and the patterns were fantastic.
Then got strobes - two banks of 4x4 8 joule - with a special controller - built by Rudge - They could do bursts - sequential - and I had colour filters if reqired.
Then - I had some more money - gigs coming in - Rudge built me two 16 joule white strobes - wow - they were excellent Anyway just a few lines of history from my birmingham days
Michael (michaelkeeshan@yahoo.com) July 2004
---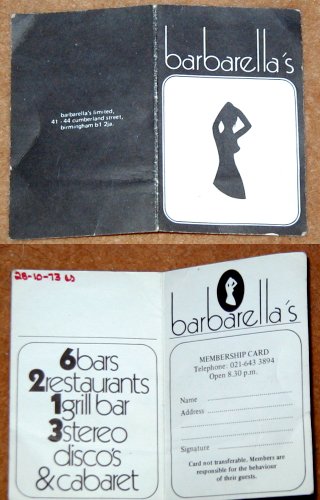 If you have any memories of Rebeccas or any of the other Birmingham nightclubs back in the 70s that you wish to share, e-mail Barry. He'll gladly publish them on this site. (left) A Barbarellas membership card - free to all employees.