Dublin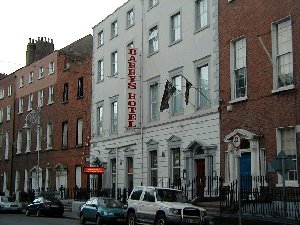 A first anniversary surprise for Barry was a long weekend in Dublin that Ginny booked. Staying at the appropriately named Barry's Hotel it was our first visit to the fair city and Guinness at its best. We walked extensively around the city centre, hopped on and off the City Bus tour and travelled to the extremities of the DART railway.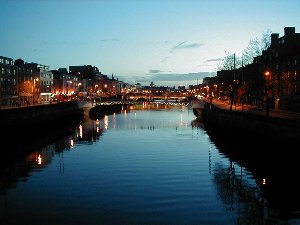 Not too far from Temple Bar one can have a wonderful evening view of Halfpenny bridge over the Liffey. Temple Bar needs to be experienced but don't expect to gain access to any of the bars after 8.30pm because the queues are just too long and there are just too many people.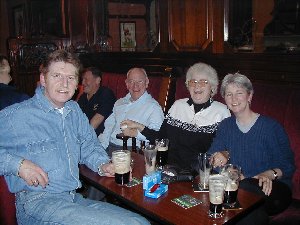 We made new friends from Sale, Manchester who were also staying in Barry's Hotel. Liam Sammon, his sister and mother. Liam is heavily involved in Am-dram with Sale & Altrincham Musical Theatre. Needless to say we had much in common, not the least of which was the Guinness we were drinking !!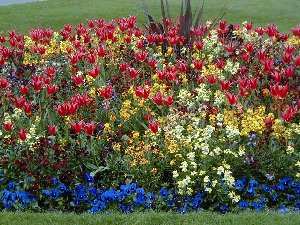 The pretty gardens of St Stephen's Green were already in full bloom everywhere. A perfect place for resting the weary feet after crawling around Dublin's pubs.

Exmouth
Once again the May Day weekend saw us in Exmouth performing with the Follies at the Pavillion. Always an enjoyable weekend this year we had Rob with us for the first time. Rob performed his own solo 'Leaning On The Lampost', a song made famous by George Formby. Here's Ginny and Rob breakfasting.